Stanley Park in Vancouver, BC


Peaceful Nature




Bike Rental, Animals, MAP, Hours
 

icon-leaf

 The peaceful big park will rest your soul and body.
This article is about the information of Stanley Park in Vancouver.
In Vancouver, there is a chill big park which is just near from the downtown.
In the park, there are nice running & cycling roads. You can run or ride a bike in beautiful nature. If you like to do skate-boarding or roller skating, you can do that too! 😀 
Also there are tours, art events, pools, horse-drawn carriages, Vancouver aquarium and so on! The park size was much bigger than I expected..! 
---
Access MAP with Entrance Address /

Stanley Park, Vancouver, BC
GPS Address: 49.293002, -123.142211
※Click the pin on the map / 2. Click "Directions to"
Then google map will tell you how you can go there.
If you come from Vancouver downtown, it is easy to go! Take one bus and no change.
| | |
| --- | --- |
| BUS | 019 Stanley Park |
| FROM | WB w Pender St NS Granville St |
| TO | WB w Georgia St FS Gilford St |
---
Hours /

Stanley Park, Vancouver, BC
Usually Open: 9:00 ~ 17:00
You still can get in the park after 17:00, but almost all tours, restaurants and shops would be closed, and getting really darker in night time. Be careful when it is dark to be in there. It's such a peaceful park in daylight, but when it is darker there would be a robbery, rape and so on..!
---
Photography For Activities & Spots To Go /

Stanley Park, Vancouver, BC
There are chill roads beside clean ocean and in forests too.
If you go to forests, you can walk, ride a bike, and run under cool trees in nature.
If you go to ocean sides, the ocean sight may always be with you!
I recommend you ride a bike on ocean sides roads, first. You can turn around the whole park for like 1 hour & 30 mins or so. It's not so long and hard way, indeed. The beautiful sight will cheer you up. There are many rental bikes shops nearby the park.
For More "Bike Rentals" for Stanley Park, Vancouver;
Conveniently located at the entrance to the world famous Stanley Park, Spokes Bicycle Rentals has been serving Vancouver locals and tourists since 1938.
---
Cycling Road (Ocean Side) /

Stanley Park, Vancouver, BC
---
---
Lion Gate Bridge /

Stanley Park, Vancouver, BC 
The bridge is connected for Vancouver and North Vancouver.
Local people use this bridge often for going to work or school. You will see the long bridge when you go to the cycling roads.
---
The photos are from Lion Gate Bridge sight! (the other day I went to up there, because I needed to go North from Downtown)
---
---
Totem Poles (access map) /

Stanley Park, Vancouver, BC
There are tall Totem Poles in the park!
Hot Photo Spots for your Instagram.
---
Forest Trails

/ 

Stanley Park, Vancouver, BC 
A Duck Family
 

icon-camera-retro

 Wild Animals 
It is a very cool place with a lot of nature. You can be relaxed just by being there, and it's very easy to walk around. There are many kind of wild animals, birds, flowers and trees! For sure you will meet one of them.
---
A Swan! it is a big bird, actually. (o.O)
I was surprised how big it is. I've heard from TV in the past that a swan attack a little boy, and killed him using a water fountain. Always be careful for wild animals, they are much stronger than we think even they are small than us.
The tree that is lay down in the river! This is a wild Beaver Works!
It was first time to see a beaver house in my life.
---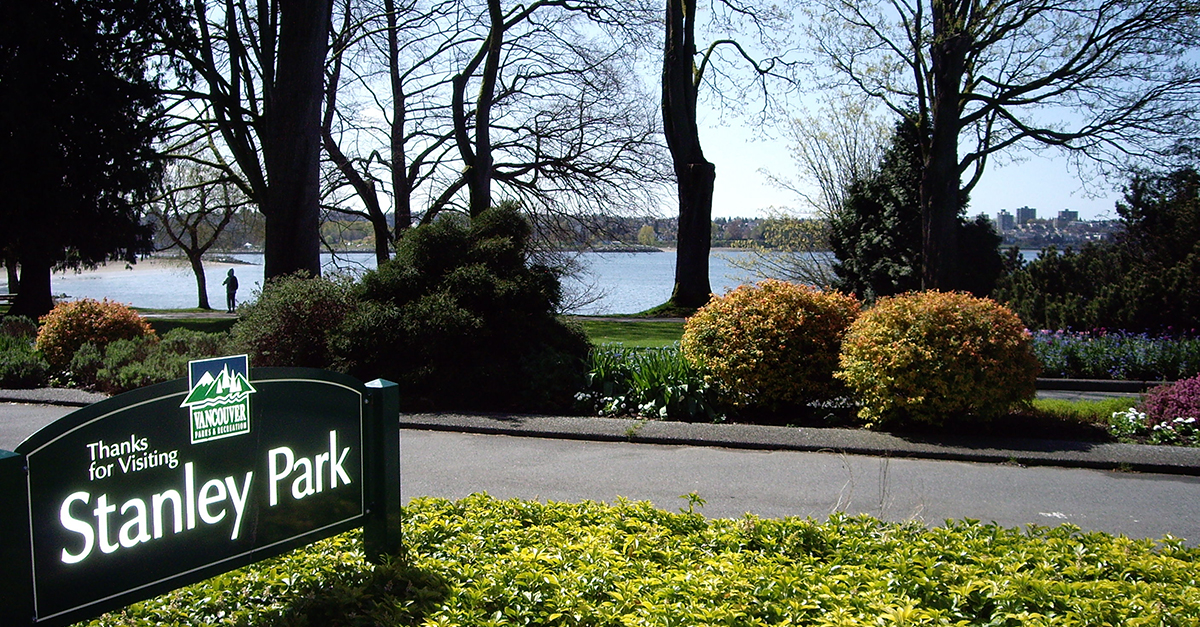 Walk, bike, take transit, or drive find simple directions, along with maps to find parking, things to do and see, and trails to explore.